Sunday School
Sunday School is on Sunday mornings @ 10:30 AM. All children's Sunday morning Bible study is taught from Lifeway and Group publications.
Children's Classes:
Preschool 3's
Preschool 4's and Kindergarteners Grades 1 & 2
Grades 3 & 4
Grades 5 & 6
Children's Worship
Children's worship happens every Sunday morning during the pastor's sermon. Children ages 4 through 1st grade are welcome to attend a special service just for them! Click the button below for more information about signing up to volunteer with this awesome ministry!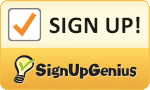 Missions and Music
On Wednesday nights, children learn about different parts of the world and the cultures there. They also study and pray for the missionaries that are serving there. A great deal of attention is given to prayer time as well. Children also participate in a choir time teaching them about singing in a group and leading in worship.
Preschool Missions and Music
Children preschool 3's through Kindergarten engage in "Preschool Music and Missions." Both are taught by Anna Claire Vollers and Rachel Davis and begin at 6:30 on Wednesday nights.
School Age Missions and Music
Children 1st grade – 6th grade engage in missions and children's choir beginning at 6:20. Girls attend GA's (Girls in Action) and boys attend RA's (Royal Ambassadors). Boys are taught by Rodney Grady, Rick Maehlmann, and Ryan Mackrell. The girls are taught by Donna Blackwell and Karen Love. Children's choir is led by Music Minister Mark Gessner.
Children's Events
When kids get to play with each other and bond with Christian adults, only good things can happen! That's what it's all about! These events take place throughout the year.
Back to School Sunday morning worship service
Tailgate and the OMC
Hayride in November
Cereal Celebration
Easter Egg Hunt and a Children's Flashlight Night
Family Fun Day
Vacation Bible School
CentriKid Camp for 3rd-6th graders