We are located in Historic Downtown Madison at
4257 Sullivan Street Madison, AL 35758
next to Madison Elementary School.
CLICK BELOW FOR DIRECTIONS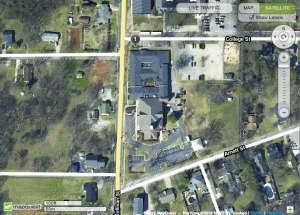 What to Expect on Sunday Mornings:
Our congregation is made up of people of all ages and religious backgrounds who are in all stages of the Christian walk. You will be warmly welcomed to participate in our journey.
What should I wear?
There is no dress code at First Baptist Church. Jeans are as common as suits and polo shirts as common as ties. Wear what you are comfortable wearing to worship.
Where should I park?
Most of our parking is behind our main building. As you follow the drive toward the back you will see designated visitors parking on your left and additional parting beyond that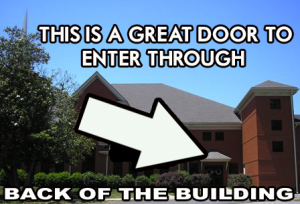 What time do you meet on Sundays?
Traditional Worship – 9:00 AM
Coffee Fellowship – 10:05 AM
Bible Study Groups – 10:20 AM
Contemporary Worship – 11:30 AM

---
What time do you meet on Wednesdays?
Fellowship Supper – 5:30 PM
Church Orchestra Rehearsal – 6:00 PM
Prayer Meeting, Discipleship Training, Children's Choir/Missions and Youth Group – 6:30 PM
Sanctuary Choir Rehearsal – 7:30 PM
What will I see?
You will see women and men, ministers and members, young and old, preaching, praying, reading scripture, and singing. We believe that God gives spiritual gifts to each person and every part of worship reflects that conviction.
---
What kind of music will I hear?
We use a wide variety of music in our worship of God. You may hear traditional hymns and contemporary choruses, organ and guitar, orchestra and youth ensembles. But all music will be done with excellence as a part of our worship of God.
---
What about children?
Children are treasured at First Baptist Church and are always welcomed in worship. There is a nursery available for infants through three-year-olds that many parents use as an option during worship. Children four years old through second grade may leave half way through the service for a Children's Worship designed especially for them. This is optional and children may stay with their parents for the entire service. Please see Children, Preschool and Nursery under the ministries tab on the menu bar for more, specific information.
---
Will I be asked to do anything?
You will not be called upon publicly in any way. Just come and be our guest. You will be invited to fill out a visitor's slip but you are not required to do so. You will also be invited to our church-wide fellowship and age-graded Bible study groups that follow the worship service.